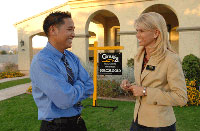 Whether you are just considering a career in real estate, or you're an experienced agent ready to take your career in real estate to the next level, amplify your performance with the strength of the CENTURY 21® System.
At CENTURY 21 Supreme Realty we continually seek highly professional sales associates to join our company. We offer an excellent commission package including incentives, no desk fees, online agent tools, training, as well as a professional and supportive work environment.
As a CENTURY 21® sales professional, the most recognized brand in real estate puts you in a prime position to build your business the way you want. The CENTURY 21® System lets you take advantage of everything – rewards, recognition, respect and results – you'd want in your real estate career.
Bring your success to a whole new level.
REWARDS
Rewards don't come without effort, but the CENTURY 21® System has the marketing, technology and business management support to help get you there on the fast track.
CENTURY 21® distinguishes itself from other brands by: consistently maintaining strong consumer awareness, offering superior service to buyers and sellers, as well as dedicating itself to technological innovation.
With more than 140,000 sales associates, in more than 8,000 offices spanning over 50 countries and territories worldwide, the CENTURY 21® System is an industry leader.
RECOGNITION
Acknowledgement of your achievements is a vital part of success, and plays a key role in the CENTURY 21® System's plan for your thriving career.
Our recognition program bestows a variety of prestigious industry awards on regional, national and global levels.
Conventions and events give you the chance to network with your peers and display your accomplishments.
RESPECT
There is no comparison to the esteem you'll find with the reputation of the CENTURY 21® System behind you.
The "most recognized brand" in real estate, our name is known throughout the world.
RESULTS
CENTURY 21® System's acclaimed education and marketing support programs enhance your professional skills and maximize your earning potential.
Extensive education opportunities are available through the CENTURY 21 Learning System® platform, voted six years in a row to Training magazine's "Top 100" list.2
A client loyalty program that really works, with nearly half of Preferred Client Club members having referred someone else to their CENTURY 21 Broker or Agent. In addition, program members are significantly more likely than non-members to make a referral in the future.
If this all sounds good to you then contact us - the Broker/Owners for a confidential no-obligation career-consultation. We understand that discretion is of utmost importance to you as you explore your career options. Be assured that if you are not ready to move at this moment, that is perfectly OK. Our staff respects your need for privacy. Just ask for Eugene or Ron.